Holiday vacation rental apartment to rent in Nerja Malaga Costa del Sol Spain
SHARE THIS PAGE WITH YOUR FRIENDS
  
 Nerja east of Malaga on the Costa del Sol in Spain
Nerja, on the Costa del Sol, is a seaside resort of sandy coves sheltered by the impressive Sierra de Almijara mountains and often referred to as 'The Jewel of the Costa del Sol'.
A temperate climate means that Nerja is a great place to visit at any time of year.
Nerja is located 53 kilometres east of Málaga on the Costa del Sol and can be reached in about 40 minutes by car from Málaga airport or about an hour and a half by bus.
Nerja is a lovely place to
 

spend your holiday vacation and there are many apartment rentals for hire in the Malaga and Costa del Sol area. This apartment to rent is located at Edificio Coronado in Nerja Town, Parador area, in the center and close to beach, shopping, Balcon de Europa, restaurants, bars and sight seeing. People say that, once you have visited Nerja in Spain, you will always come back! Rent your apartment.

 
Why rent a holiday vacation apartment ?
To rent our vacation apartment rental in Nerja for you holiday stay is an inexpensive and comfortable alternative to a hotel. Who wouldn't trade a small hotel room with a beautiful and cozy holiday apartment rental in Spain and Nerja, where friends and family all can be together like a true family holiday. No matter what kind of a vacation holiday you are planning, you will discover many advantages in renting our holiday home in Spain.
Spain is ideal for almost all kinds of holidays. Most popular are "Beach holidays". Another is "City holidays". Another very popular way of visiting Spain is "Rural holiday lets", where you can enjoy the mountains and the nature up close. By booking Holiday Apartment in Nerja you can explore all of the above. Welcome to book your holiday in our vacation apartment in Costa del Sol.
Click on the photos to enlarge.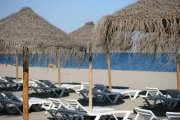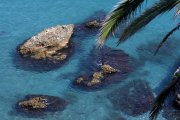 Welcome to a holiday vacation rental apartment in Spain.
Located in the center of everything in Nerja,
Malaga, Costa del Sol, Andalusia, Spain.
About the apartment
All of the furniture is new
 and also things like air-condition, wifi and other practical things in the apartment is new. 
The rental apartment
 has all that's required for a perfect holiday vacation. 
The apartment for hire
 is decorated in a Scandinavian style with f
ully equipped kitchen
 - optimally for self catering. L
ocation of the apartment is optional
around the year because it is c
lose to Burriana 
Beach
, Carabeo Playa, Calahonda Playa and Torrecilla Beach. It is also very c
lose to Balcòn de Europa
, all the shopping streets and Mercadona (grocery store). 
The accommondation is suited in a well maintained apartment block with two pools
. One for small children and a larger for adults. 
Click on following links below for
more information about Nerja Holiday Apartment to rent. 
Please contact us regarding Holiday Vacation Apartment to rent in Spain. We will be glad to answer you e-mail as soon as possible. You can also use Viber to make a telephone call. 
Mattias Håkansson & Emilie Sjöstedt
Tel +46 708 964 954